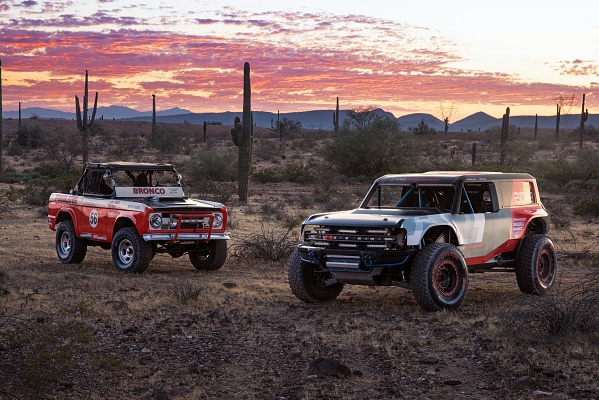 It's been more than 20 years since the industry last saw a new Ford Bronco roll off the assembly line. Since then, Ford's consumer-SUV focus has been more on utility and driving refinement than aggressive trail-tackling prowess. Finally, after two decades of patient waiting, Ford confirmed that the legendary off-road nameplate would return to the automaker's lineup in the spring of 2020.
Unsurprisingly, Ford has kept most of the details under wraps. However, we know that the 2021 Ford Bronco will be available in two- and four-door configurations and feature a 2.4-liter turbocharged engine. It will also feature lots of ground clearance, a five-link rear suspension, independent front suspension, and other essential features for enhanced capability off the beaten path. It will also offer a full array of Ford Co-Pilot360 advanced safety features.
We're excited for the new Bronco's arrival, and we know our Nashville-area customers can't wait to get behind the wheel. There are several off-road parks within driving distance that would be perfect for exploring in this rugged and exciting vehicle. Here are three of our favorite:
Windrock Park: Just outside Knoxville in Oliver Springs, Windrock Park boasts more than 70,000 acres of trails for all skill levels, though some are reserved for ATVs and dirt bikes. The park is open year-round and offers plenty of hiking and camping.


Wheelin' in the Country: Head south to Summertown, TN, to visit this 700-acre park with off-road challenges like mud pits, ravines, hill climbs, and more. You can also rent a cabin or camp out for free.


Wooly's Off Road: A little more than 20 miles east of Wheelin', this park is open to all off-road vehicles. You'll find an extensive network of wooded trails, ledges, and steep hill climbs. Also known as Wolaver Farm, this park is open on weekends and holidays, and it's a good idea to call ahead.